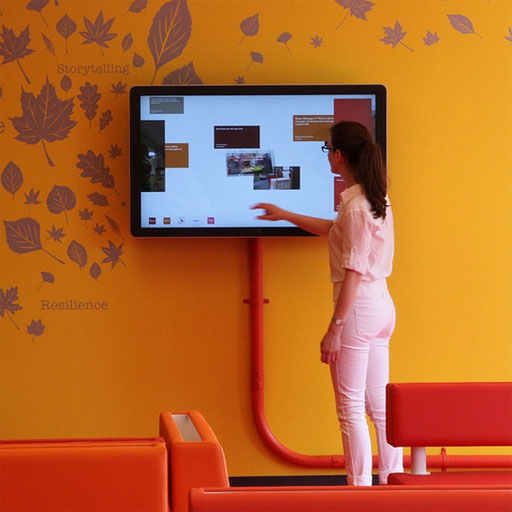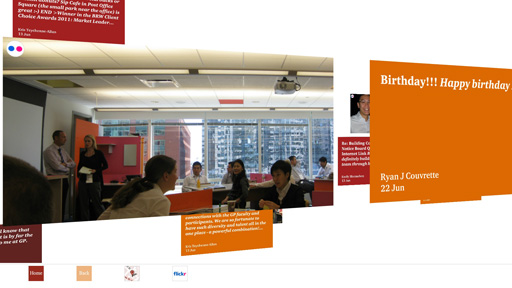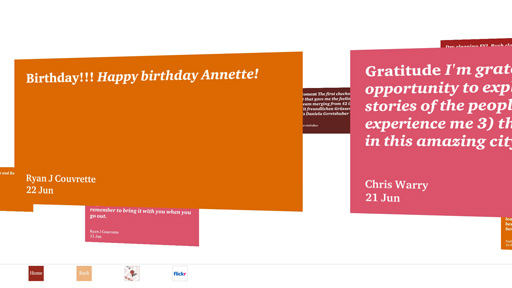 PWC Noticeboard
2012
Genesis Park is an internal training programme run by Price Waterhouse Cooper at multiple global locations.
Ab Rogers was commissioned to design an environment for the Genesis Park programme. As part of Ab's team I worked with Dominic Robson and Marc Linder to create a large touchscreen 'noticeboard' designed to augment the physical environment by making visible the social media connections around Genesis park.
The screen displays text messages and photos sent by Genesis Park participants via email, Twitter and Flickr. When not being interacted with the noticeboard provides an ambient display. Users can choose to interact at any time via the touchscreen to review messages and photos.
We've so far created two iterations of the noticeboard, the first one in 2011 for the Genesis Park programmes in Singapore, Boston USA and Warsaw Poland, and an augmented version in 2012 for Shanghai China, Cape Town South Africa and Toronto Canada.